1989
Luminox (LUMI is Latin for light while NOX is Latin for night) was born in 1989, driven by a commitment to offer cutting-edge luminescence and readability in its line of high-performance sports watches.

Since then, we refer to the illumination technology in the Luminox watches as the Luminox Light Technology (LLT).
1992
The Assistant Officer to the Development, Test, and Evaluation (RDT&E) unit for the Navy SEALs, Nick North,  together with the Luminox founder, Barry Cohen, worked to develop a watch specifically for the Navy SEALs and the Navy SEAL watch was born.
1994
After Luminox provided the watches to the SEALs, more elite units contacted the brand directly, including the U.S. Coast Guard, New York City Police Department, Singapore Air Force, Special Military Forces Israel and many other law enforcement groups.
1998
Luminox was approached by U.S. Air Force pilots flying the F-117 Nighthawk™ Stealth fighter jet. This initial contact turned into a worldwide license agreement to produce Lockheed Martin timepieces.
2002
The U.S. Bobsleigh and Skeleton Teams win six medals during the Salt Lake City Olympic Winter Games. The teams wore co-branded Luminox Navy SEAL Colormark watches 3051 and 3957.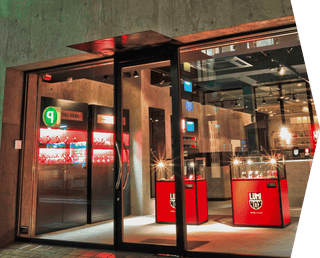 2003
Luminox opens its first mono-brand store in Tokyo. Luminox now has four mono-brand stores in Japan.
2005
Luminox creates the first Lockheed Martin SR-71 Blackbird™ Limited Edition timepieces.
2007
Launch of the Navy SEAL Colormark 3051 Series ­— the evolution of the original Navy SEAL timepieces — soon to become the best-selling series of Luminox watches.
2008
Luminox expands its presence globally to more than 50 countries and becomes a truly global brand.
2009
Luminox partners with counter terrorism expert and undersea explorer Scott Cassell. Cassell is a dive professional and relies on Luminox watches as part of his essential diving gear.
2010
Luminox is proud to introduce its 50 bar (500 meter / 1500 feet) Deep Dive Automatic Series — Essential Gear for serious divers and a certified watch for use by professionals ­— complying with the strict and extremely high standards of ISO 6425 for diving watches.
2011
Launch of the first Luminox RECON series with the Point Man 8820.
2015
Luminox initiates the Luminox Special Operations Challenge (LSOC): honoring its heritage, Luminox partners with retired Navy SEALs to offer civilians the chance to train like a Navy SEAL for a day.
2017
New Swiss-Made law: The new Swiss-Made law came into effect as of January 2017 and all Luminox Watches continue to fulfil the new Swiss-Made regulations.
2018
Luminox named Official Partner of the Icelandic Association for Search and Rescue (ICE-SAR). To celebrate and commemorate this partnership, Luminox has created a special ICE-SAR Arctic Series.
2020
Luminox is part of the Mondaine Group, carrying 4 different watch brands. The Mondaine Group became comprehensively CO2 neutral on scope 1, 2 and 3 of the GHG protocol in 2020. The Greenhouse Gas Protocol provides standards and tools that help companies, countries and cities track progress toward climate goals and is the most used standard for greenhouse emission accounting and management.

Luminox announced its partnership with bear Grylls, the world's most recognized face of survival and outdoor adventure.
2021
Luminox as part of the Mondaine Group managed to be CO2 neutral on scope 1,2 and 3 of the GHG protocol for the second year in a row.
2022
Building on the success of the Pacific Diver series, Luminox launches a day/date chronograph version of its already iconic model.
2023
Luminox launched its Mil-Spec watch, built against the performance specification standard of MIL-PRF-46374G. This means its design and colors, its water resistance, its robustness, quality and material sourcing reflect the standards of the U.S. Department of Defense.