Ready for take off?
Meet our newest pilot watches inspired by Lockheed Martin's
notable aviation achievements.
Luminox is the official watch partner for the American Aerospace engineering juggernaut, Lockheed Martin. Through this partnership, Luminox takes inspiration from two of the most revolutionary airplanes of its time designed by Lockheed.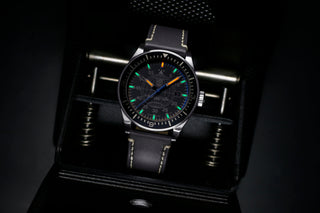 CONSTELLATION®Automatic
9600 Series
Our newest automatic timepiece pays tribute to the star of the skies, fondly nicknamed, Connie. The plane was a game changer for both civil and military aviation, setting flight time records including the quickest flight from Burbank, CA to Washington, DC in 1944 in just under 7 hours. That flight was piloted by none other than TWA owner Howard Hughes, who was instrumental in bringing the craft to market and revolutionized commercial air travel. The combination of high performance and design made this aircraft a legend in the industry, and now it inspires Luminox's newest automatic timepiece.
Featured on the dial, an illustration of the globe and the CONSTELLATION®airplane sets this watch a flight. A 42mm stainless steel case with sapphire crystal features an elegant 3D case back. Swiss-made automatic movement provides precision timing keep.
P-38 LIGHTNING®
9520 Series
The Luminox Air Pilot P-38 LIGHTNING®lives up to the storied fighter jet that heroically served during WWII in both the European and Asian Theaters of Operations. Feared by the enemy because of their maneuverability even at high altitudes, the fighter jet earned the nickname, The Fork Tailed Devil, by the Luftwaffe. Lockheed's P-38 LIGHTNING®was an engineering feat of its day, and the new Luminox Air Pilot P-38 pays homage to both the design and functionality of this iconic airplane.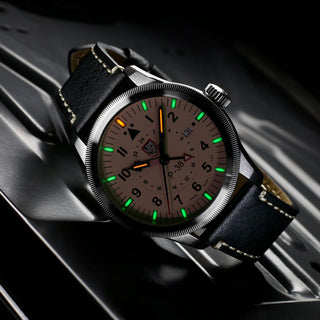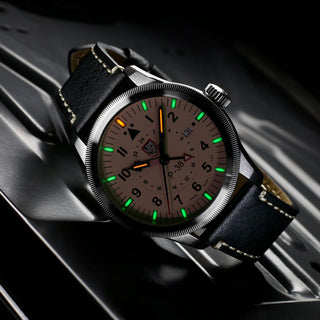 A highly legible, easy-to-read dial in a 42mm stainless steel case features a GMT function that allows you to track multiple timezones, making it a must-have for any worldwide traveler.